Double Celebration in July!
14 August 2023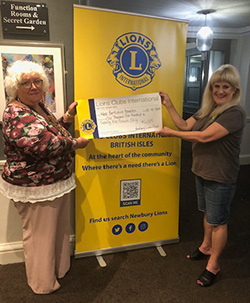 President Margo presents a cheque for £6,125 Erica Gassor from the charity West Berkshire Homeless
There was a double celebration at Newbury Lions Club July meeting when Lion Margot Payne presided over her first meeting. Margot took over the reins from Immediate Past President, John Coleman, and one of her first duties was to present a cheque to West Berkshire Homeless charity.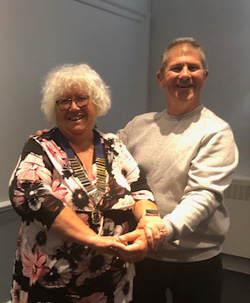 Incoming president Margo Payne receives the chain of office from IPP JOHN Coleman
Lion Margot said she was honoured to become president as she had a long association with the club, her father having been a member just after it was formed. She remembers helping out as a teenager at Lions functions and was proud to be carrying on the family tradition. Although experienced in chairing meetings as a former mayor of Newbury, Margot admitted to being a little nervous before her first full meeting. She thanked Lion John for his safe stewardship through the last two years and for returning record amounts from fundraising activities. Due to this success, she was thrilled to be able to present a cheque for £6,125 to Erica Gassor from the charity West Berkshire Homeless, as part of their Changing Lives project. This recognised the cost of supporting an individual from homelessness through to accommodation and work as well as continuing support to maintain their tenancy.
Newbury Lions next fundraiser will be a Duck Race on Sunday September 10th and they will be holding their annual Fireworks display at Newbury Racecourse on Saturday November 4th. If you want to know more about these events or find out how you can volunteer to help, you can contact Margot on president@newburylions.org.uk or leave a message on their Facebook page https://www.facebook.com/lionsclubofnewbury.